processing
Phases of the production process
processing
We take care of all stages of the production process of sunglasses and eyewear, of small parts and miscellaneous accessories made of plastic, metal, steel. The company provides full service both for the complete eyewear construction and any intermediate processing, by using automated and semi-automated technological systems.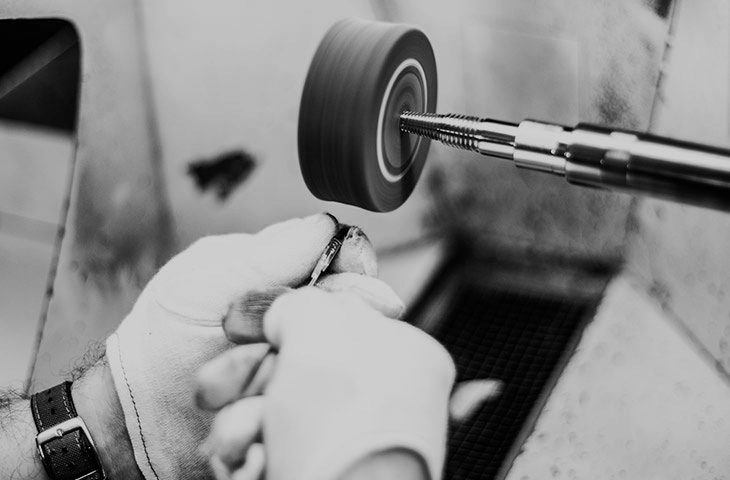 SATIN FINISHING
That is grinding process used for the creation of special eyewear effects. Grinding is done using wheels or abrasive belts placed on the surface of the materials for aesthetic or cleaning purposes. It can be performed on raw or galvanized surfaces; visual effects can vary depending on the abrasive grain of the grinding wheels or belts used.
SANDBLASTING
This is a process performed on small eyewear parts and miscellaneous accessories, using manual and semi-automatic systems. This treatment is performed with corundum and other materials; this operation prepares the surface for adhesion.
TUMBLING
This is a treatment performed on metal and plastic small parts and miscellaneous accessories using wet and dry roughing and polishing systems.
BRUSHING AND POLISHING
These processes involve eyewear small parts and accessories using manual and semiautomatic systems. It is a grinding operation performed using canvas grinding wheels on the surface of which pastes of various kinds are spread, depending on the degree of finish to be obtained (roughing or polishing); this prepares the material surfaces for subsequent galvanic finishing.
WELDING
This means the assembly of eyewear, components and miscellaneous accessories made of metal, copper, steel through the use of latest-generation machinery.
Zona Artigianale/Industriale n° 8
32038 Quero-Vas
BELLUNO